The Complete Kit includes everything you need to build out your daily carry experience. It pairs a Traveller in your choice of Midnight Black or Evening Silver with an additional accessory kit (that includes a spare stainless steel tube, black stopper, and glass tip), with an extra set of coloured stoppers (so you know exactly what you're carrying).
The Traveller

Carry your  daily essentials wherever you go with purpose-built storage that conceals scents while preserving flavour and freshness. The Traveller slims down your carry through an elegant blend of form and function. 
Compact compartments are specially-sized to suit your storage needs, making the case well-appointed for those who roll, pre-roll, or dabble in both. Whichever way you indulge, you have peace of mind that your product is discreetly concealed within secure housing designed to lock in aroma and flavour.. 
With the press of a button, the integrated electric arc lighter gives you a light in windy conditions.. 
Once you experience the convenience of carrying an all-in-one case, you will never leave home without it.
The Traveller Accessories Kit
With the Traveller Accessories Kit you can store and carry more. Having an additional stainless steel tub allows you to grab exactly what you want to carry for the day and swap it out in seconds - meaning you can use your Traveller to carry exactly what you want without having to load in new product.
Of course, the stainless-steel storage tube seals in the freshness, flavour, and potency of your product.  You can carry your loose product or finished rolls discreetly with the scent concealing tube. 
The Traveller Stoppers Kit
With the Traveller Stoppers Kit you can easily identify what you're carrying by site.  While we love the idea of taking a moment to open the stainless steel tube and examining the product by eye or by scent - sometimes you don't have time to waste.
So these bright-coloured stoppers allow you to colour-code your carry.  Grab the right tube with the right product for the right moment.
This Complete Kit Includes
USB-rechargeable arc lighter with illuminated LED battery life indicator.

2 x Multi-use food-grade stainless steel storage tubes with two black durable silicone stoppers.

2 x Jet-black glass tip.

Micro-USB cable.

Three durable silicone stoppers (red, green, and blue).
Wellburne | Scent Concealing Carry Cases | Your Experience
Landing Page 1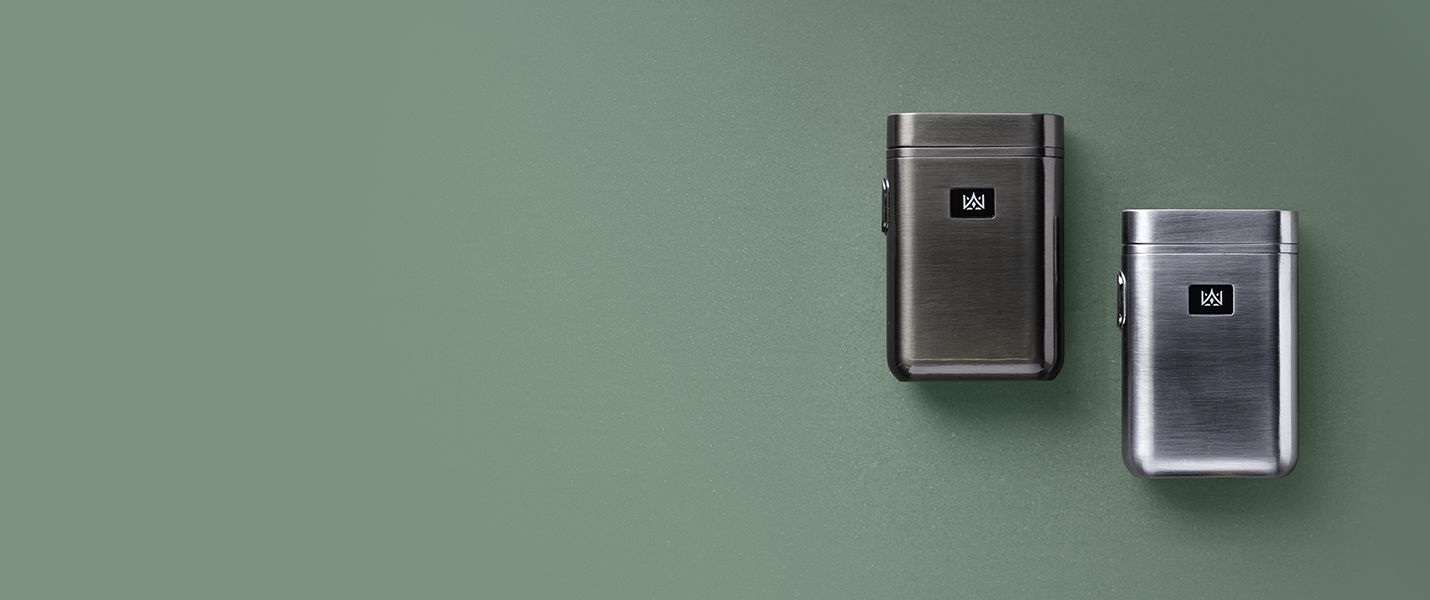 Inspired by Fashion, Accomplished by Technology
Blending elevated design with hand-rolling is a balance of form, function and attention to detail. We spent industrious days and contemplative nights towards designing powerful features in a pocket-sized package, and building technical prowess into essential concealment features for the discreet yet discerning. Each component is carefully considered to preserve the integrity of its contents. Timeless style and prime materials stand up to daily use, with quality construction that's built to last.
MEET THE TRAVELLER